Shortlees Primary One Class Wins Health and Safety Design Competition
31 May 2023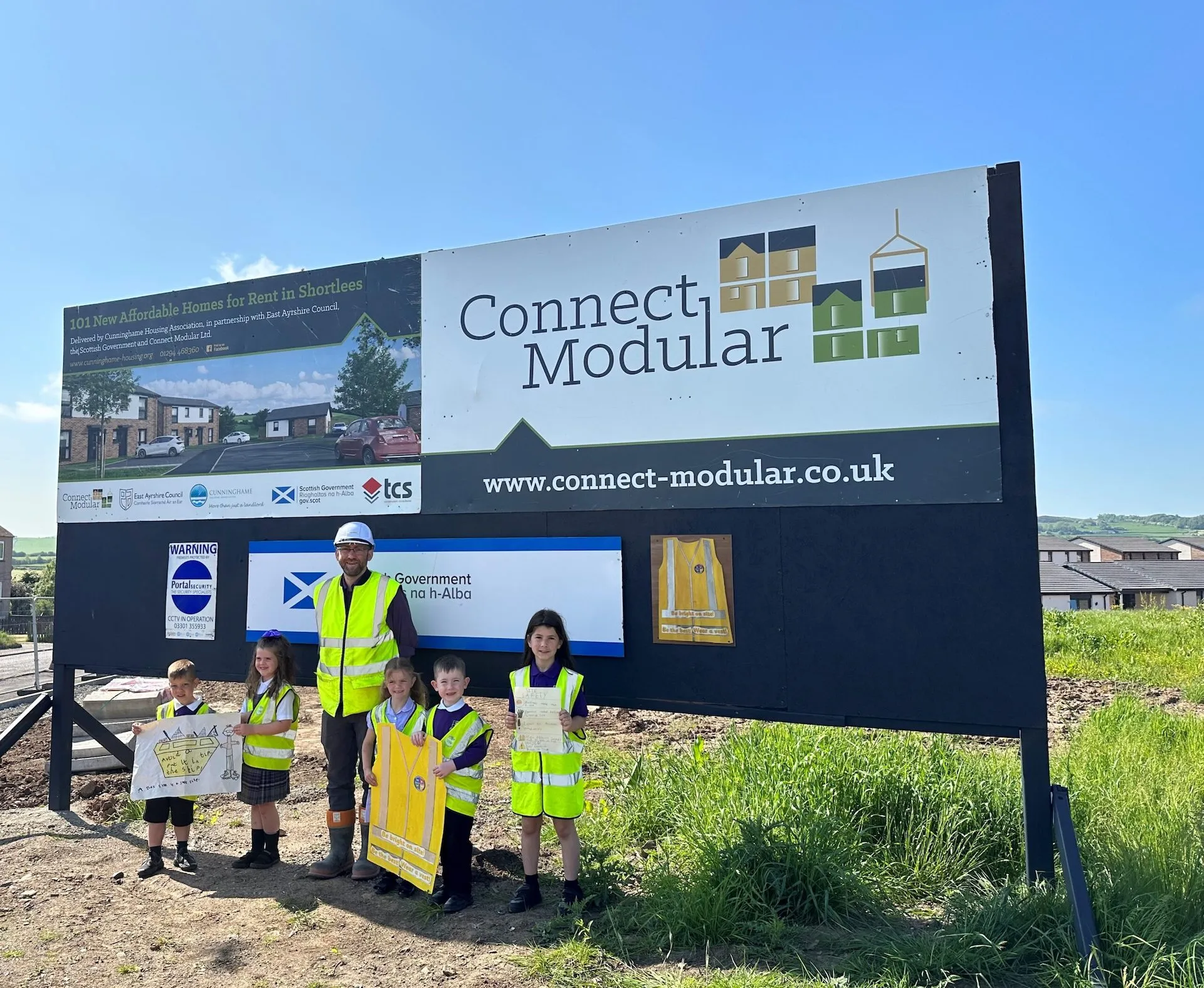 A primary one class from Shortlees Primary School in Kilmarnock has won a health and safety design competition organised by Connect Modular, part of the Wee House Group, who are working with Cunninghame Housing Association to deliver 101 modular affordable homes to the Shortlees area. The winning design has been produced and installed at the development.
The competition was open to all primary classes at the school and students were asked to design a health and safety poster that was vibrant and eye-catching, to be displayed at the Shortlees development. The winning design, which features a brightly coloured hi-vis vest with the slogan: "Be bright on site! Be the best! Wear a vest!", was chosen by Ewan Kelly, site manager at Connect Modular who comments: "We were really impressed with the creativity and thoughtfulness of the students' designs; we are delighted to be able to display the winning design at our development to help raise awareness of Health and Safety for those working on or visiting the development."
Lynsey Young, Marketing Manager at Connect Modular said: "We're thoroughly enjoying working with the School throughout our development at Shortlees. The children have come up with so many exciting and fun activities for us to do together.  Working with the school helps build a stronger community, engenders a sense of ownership around the development and demonstrates our commitment to the community and its future".
Connect modular has a calendar of activities planned with Shortlees Primary School for the duration of the development. The next activity will involve the children designing New Home cards for the new residents, the first of whom will receive the keys to their new homes in July. Connect Modular has also confirmed that they will be making a financial contribution to Hillhouse, a charity Shortless Primary School works closely with.
Linda Anderson, Acting Chief Executive Officer at Cunninghame Housing Association commented: "It's absolutely amazing that children from local school were so involved in the competition and produced some inspired ideas and artwork in relation to the design of a health and safety poster.  Well done to Connect Modular for leading on the competition and liaising with the local schools and children.  It's refreshing to work with a builder as committed as Cunninghame Housing Association to making our communities better places.  Our staff cannot wait to see it on display at our Shortlees development.  Fantastic"!